If you've used the Twitter client Tweetie or the official Twitter apps for iOS, Android and OS X, you have one person to thank for them: Loren Brichter. Brichter rose to fame with his excellent Twitter app, Tweetie, for iOS and Android. These apps were so good that Twitter acquired him and his apps and since then he made the Twitter apps for iPhone, iPad, Android and OS X.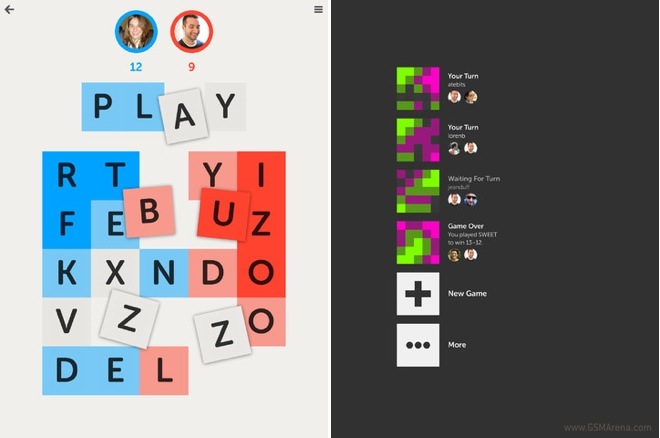 Last year, Brichter left Twitter to continue working for his own company, Atebits. He has been secretly working on his own app since then and yesterday it was finally released on iOS. Say hello to Letterpress.
Letterpress is a two player, online multiplayer game similar to Scrabble, where you have a grid of 5×5 tiles consisting of letters. Your goal is to form words using these letters. The word should have at least two characters and you cannot repeat words. Once you select your letters, they get assigned by your team color. The opponent then has to do the same.
If you choose from the white tiles, that is those that have not been used, you get one point per tile. If you steal tiles from your opponent, you get one point and the opponent loses one point per tile. Once stolen, the tiles turn the color of your side. If you use your own previously used tiles, you don't get any points. Eventually, you have to use up all the tiles on the board and the one with the highest score wins.
The premise is pretty simple but despite that the game is fun to play. What I really like about this game is how well made it is. From the UI design to the slick animations, everything is top-notch and shows that a great deal of care went into making the game.
Now here's the best part: Letterpress is completely free for download. There is an upgrade option for which you have to pay $0.99. which lets you use various themes for the board and you can also play multiple games at the same time but even without upgrading the game feels complete.
Click
here
to download the game on your iPhone, iPad or iPod touch. You'll need a Game Center ID to play the game.
You have read this article Apple / Reviews with the title Letterpress Game Review. You can bookmark this page URL http://metroplexbbq.blogspot.com/2012/10/letterpress-game-review.html. Thanks!