With just a few days left before Windows 8 launch event,WP Market has passed a milestone.More than 125,000 apps have now been published in the Windows Phone Marketplace and new content is currently being added at the rate of 215 apps per day. At the time of writing, 126,530 apps have been published, of which 113,170 are available for download (live). Of these, 15,822 were added in the last three months and 5,673 were added in the last month. These apps come from just over 30,000 different publishers.
Key points
As of October 22nd, 2012:
126,530 apps were published to the Windows Phone Marketplace over the last 20 months
113,170 apps are live (publicly listed as available for download, total across 60 countries)
101,517 apps are live in the US Marketplace
Windows Phone reached the 125,000 milestone faster than Android (26 months), but slower than iOS (18.5 months)
30,000 developers have published an app in the Marketplace
Proportion of quality apps (rated five or more times) stable in the UK at 7.8% (8% in May), increasing in the US at 13.8% (12% in May).
The graph below shows the growth in the total number of apps (content items) published to the Windows Phone Marketplace over the last 24 months.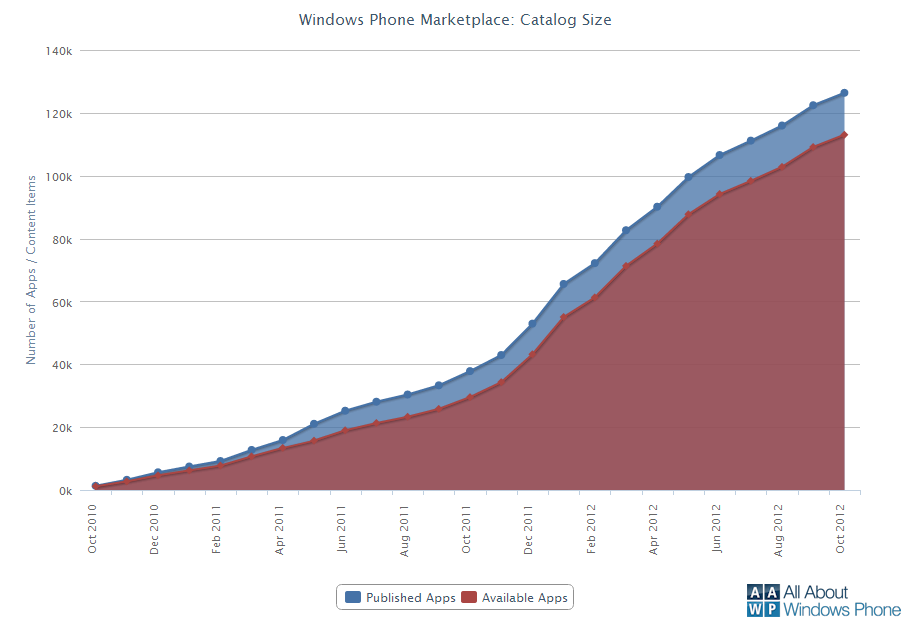 In common with other application stores, the total number of published items is not the same as the number of items available to consumers. Of the 126,530 items published to the Marketplace, 11,639 are no longer available (withdrawn by Microsoft or unpublished by the developer), a further 1,716 items are in staging (awaiting an update, in beta or not live for some other reason). That means there are 113,170 apps currently available for download (live) on the Windows Phone Marketplace.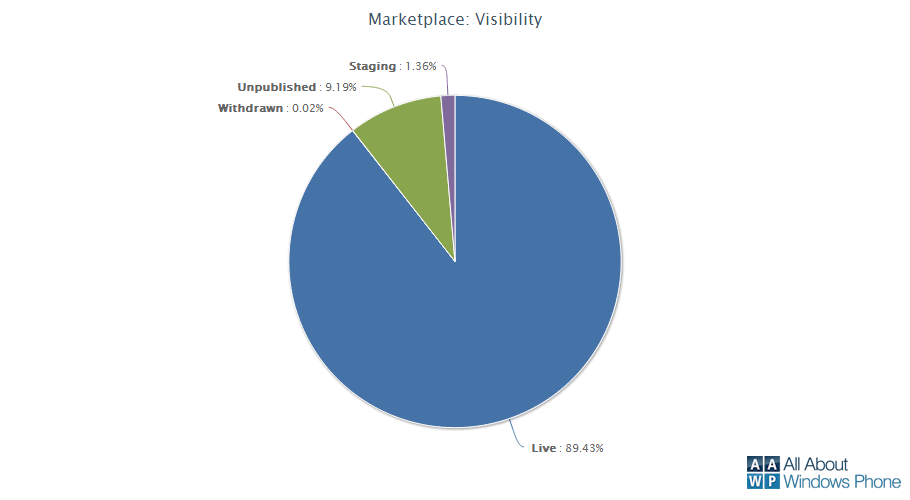 In addition, some apps are only available in select markets. This means the number of available items to a consumer, in a given market, is lower than the number of published items. The current figures for live apps (i.e. fully available for download) are: US (101,517), UK (96,265), France (92,887), Spain (91,224), Italy (90,806), Germany (91,940), Australia (92,670), Russia (75,728), Brazil (65,360) India (92,130) and China (46,094).
It's notable that both China and India have enjoyed stronger than average growth since our previous report, perhaps indicative of strong sales of low cost devices, such as the Lumia 610.
The graph below shows the number of live apps available in 59 countries. The 5 groupings visible in the chart align, roughly, with the date at which the country went live in the Marketplace. The five groups are Windows Phone launch (October 2010), Mango launch (October 2011), Expansion 3 (January 2012), Expansion 4 (March 2012), and Expansion 5 (April 2012).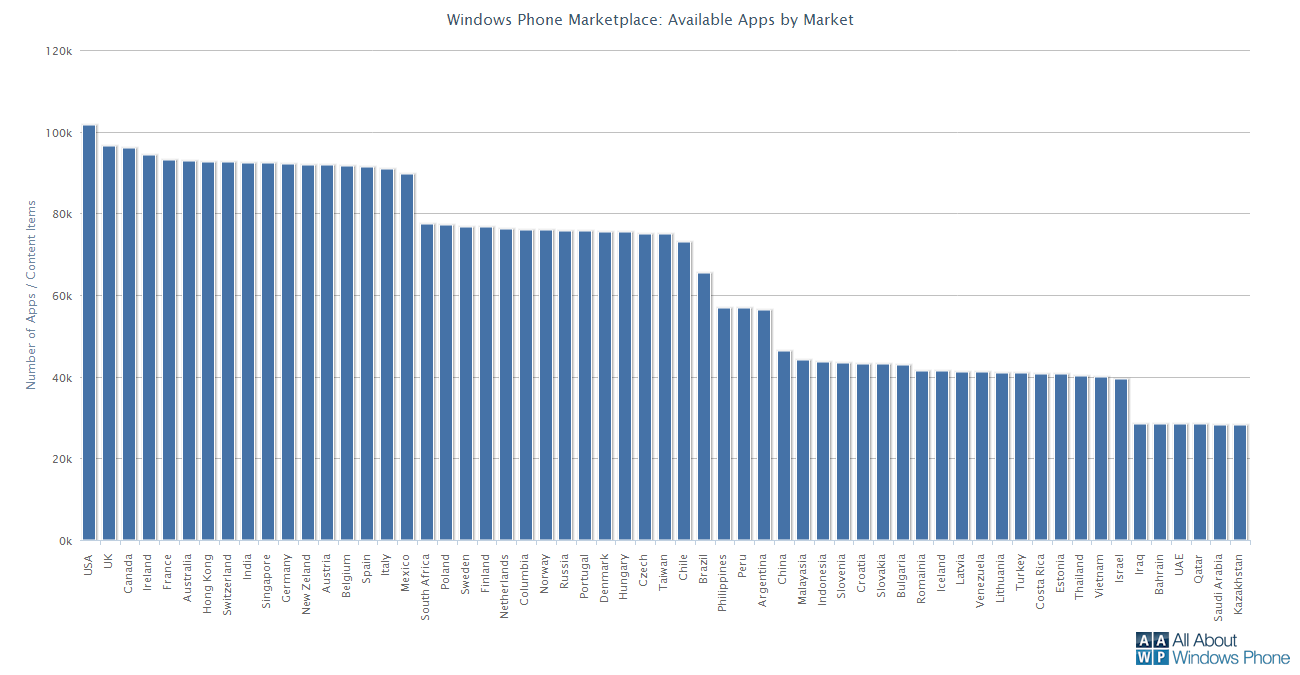 Some apps are only distributed in a single country. This usually applies to apps that contain region-restricted content or features, are hyper-local (only relevant to one country) or are only available in a single language. The chart below shows the number of single market distribution apps for each country. As you might expect the US leads the way (2854), with China in second place (1558), indicating a strong "local" app presence. Other apps are distributed in multiple countries, but not all the countries are available in the Marketplace. Developers with such apps may be missing out on potential downloads.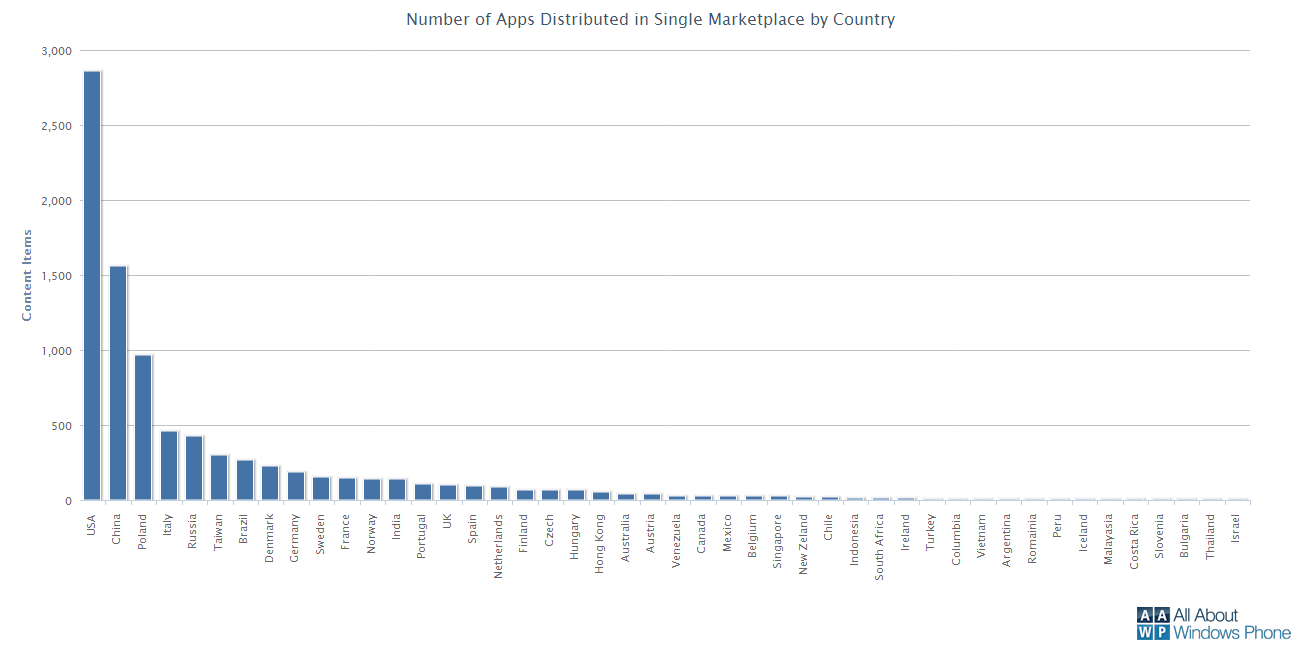 In September, the last full month for which data is available, an average of 215 apps were added to Windows Phone Marketplace per day. This was down from earlier in the year, but more than double the number from September 2011 2011 (97 per day). The app addition rate has fallen over the middle months of 2012, perhaps as developers look ahead to Windows Phone 8, but the overall trend sees an increasing growth rate from 2011 to 2012.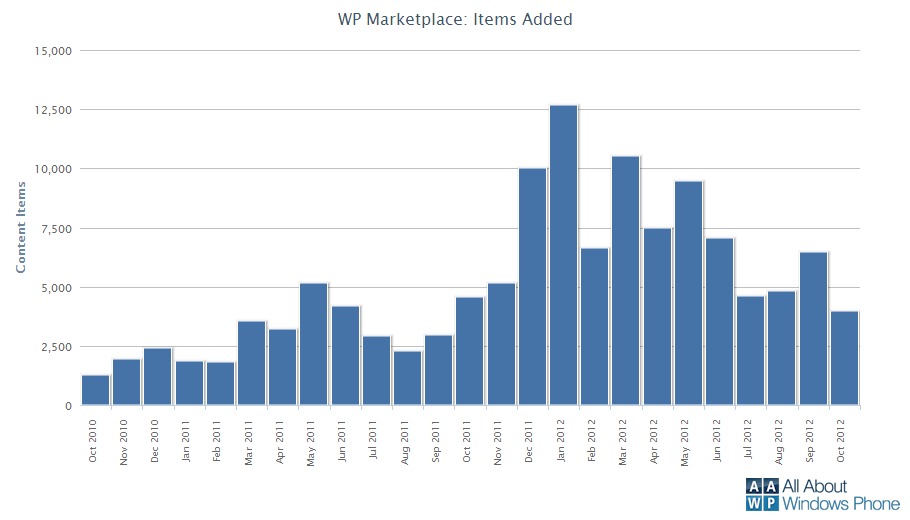 You have read this article Articles / Windows Phone with the title 125,000 Apps In Windows Phone Market. You can bookmark this page URL http://metroplexbbq.blogspot.com/2012/10/125000-apps-in-windows-phone-market.html. Thanks!