I hope by now everyone knows what the Nexus 4 is or at least has heard about it.Well,as it turns out ,this is probably the worst kept secret in the mobile industry.First,it was lost in a bar about a month ago,and even before its official announcement,I have previewed it. And now,guess what it is the manual's turn to get leaked.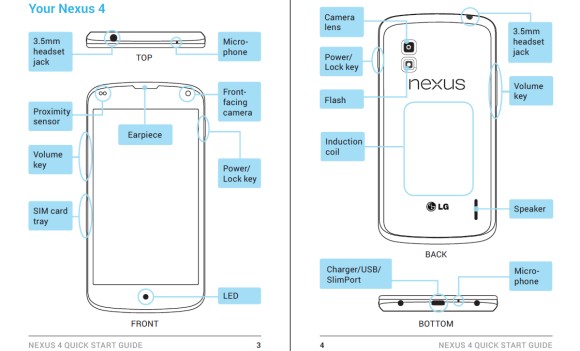 .
The manual which has subsequently been removed from LG's website reveals yet again the Nexus 4's close relationship with the LG Optimus G. Built-in 8 and 16GB memory options are all but confirmed, as well as the presence of induction coil for wireless charging.
The LG Nexus 4 will be unveiled at a Google event in New York City on Monday with the also leaked, Samsung made Google Nexus 10.
What do you think of the new Nexus device?Is it going to be the best android smartphone?
You have read this article Android / LG / Mobile News with the title Nexus 4 Leaked Manual. You can bookmark this page URL http://metroplexbbq.blogspot.com/2012/10/nexus-4-leaked-manual.html. Thanks!